Maui Car Rental, BIO-BEETLE ECO Rental Cars, in the News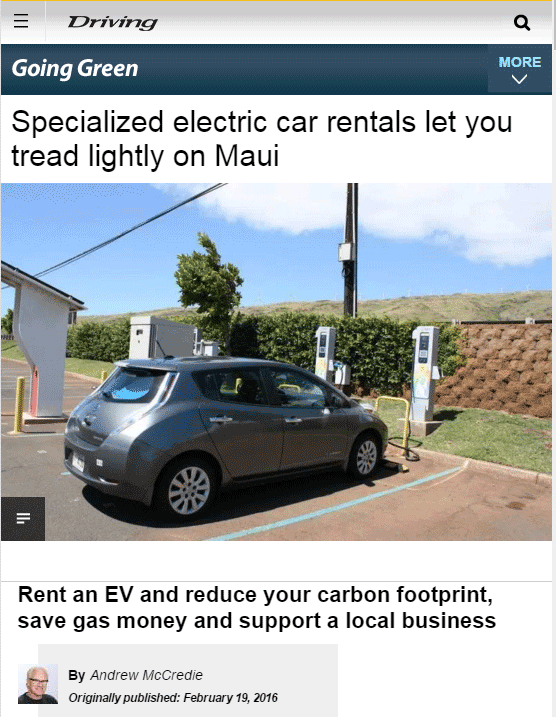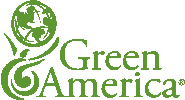 An-Electric-Drive-to-Hana Maui Weekly. March 28, 2013
BIO-BEETLE listed in 100 most BRILLIANT Companies for 2011 by Entrepreneur Magazine! More Travel Brilliance..... Bio-Beetle This car rental company makes it easy for travelers to be eco-friendly with its fleet ... that run on recycled vegetable oil. You want fries with that fill-up?
Red Magazine 2008
Alaska Airlines Magazine 2008
Audubon Magazine July, Aug 2007
Home and Away July, Aug 2007 Green Tips for Road Trips
TIME MAGAZINE! April 9, 2007 #48, 51 Ways to Save the Environment!
Globe and Mail Toronto Canada April 4, 2007 A Breath of Fresh Air

Environmental Heros ..... Shaun Stenshol... "They don't wear capes. They don't fly, or bend steel with their bare hands. But their work is helping to save the world. Click to read more!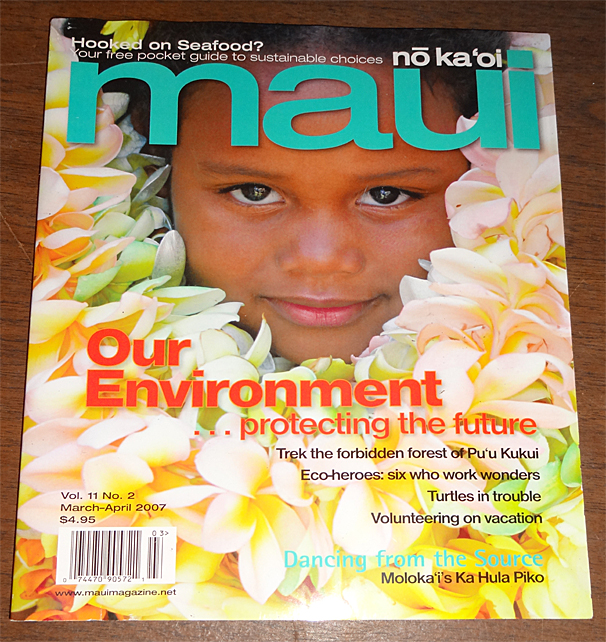 OUTSIDE MAGAZINE. Dec. 2006 #22 of Outside Top 100! "This years Most important people, ideas, trends, and gear."
Frontiers Magazine To keep in step with the eco-friendly vibe of the island, rent a reasonably priced biodiesel vehicle through Bio Beetle
F-Stop Blues Sunday, Nov. 2006. Just because you have to rent a car doesnt mean it cant be good for the planet...
The Greening of Tourism Nov.2006
In the US, Bio-Beetle if offering visitors the chance to rent cars powered exclusively by biodiesel derived from 100% re-cycled vegetable oil;
AFP Worldwide News Agency July 2006
AFP SOUTH AFRICA July 14, 2006
Independent Online With gasoline prices soaring, anxieties about global warming, and concern over the war in Iraq, a ...
Motoring Motoring.co .
'Green' rentals give the planet a break Motoring Some "greenies" not only drive on alternate fuels at home they rent them when they're on holiday as well. Biodiesel car rental ...
Maui News April 16 2006 KAHULUI -- Shaun Stenshol didnt set out to rent cars fueled by used cooking oil in paradise. He set out to stop nuclear bomb testing in the desert. Funny how things work out.
Whole Life Times
Bio-Beetle ECO Rental Cars Renting ECO Friendly Cars since 2003 808-873-6121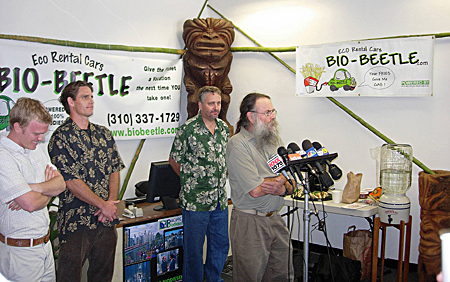 Jake, Parker, Shaun, and Joe at the L.A. press conference.
Thanks to Real Food Daily for donating the great organic vegan food for the press conference!
Paul Harvey... Wednesday Morning... March 1, 2006
KenRadio (at 2:17) March 1, 2006
KNBC Los Angeles /MSNBC
NBC4TV Los Angeles
ABC7 Los Angeles
CBS2 / KCAL Los Angeles
Reuters
ABC News
All Headline News
Daily Breeze Los Angeles
Outdoor Newswire
Los Angeles
KFMB San Diego
KPLA Hilo Hawaii
Auto Rental News
Local News Leader, Rueters, (Same story)
Environmental News Network
CNET
Reuters India
Khaleej Times Arab Nations
The Peninsula Qatar
Independent Online South Africa
Kindred Times Utah
Herald News Daily North Dakota
Pierceland Herald Saskatchewan
Planet Ark
Red Orbit Science News
Brockton Nevada
ELY Times
Yahoo News
Beurs Tech Talk
Olberlin Times Kansas
Jackson News
Leading the charge Australia
TVNZ.CO.NZ New Zealand


Bio-Beetle ECO Rental Cars 808-873-6121 info@bio-beetle.com
VIA AAA Magazine March 2006
Hereis an excuse to order french fries: Leftover fryer grease from restaurants can be converted into ecofriendly biodiesel fuel. And if you are traveling to Hawaii, you can rent a car powered by recycled vegetable oil.
The Maui News - Jan. 9, 2006 - Tides of Commerce
LIKE W.C. FIELDS. The comedians tombstone reportedly says: On the whole, id rather be in Philadelphia. Shaun Stenshol of Bio-Beetle Eco Rental Cars picks Philadelphia, too, at least when adding diesel VWs to his rental fleet, which has grown from one to 12 vehicles since 2003.
The Lazy Environmentalist . Dec. 12, 2005 Radio show that "covers the growing trend of everyday people searching for simple ways to green their modern lifestyles." interview with Shaun Stenshol
Pacific Business News -
June 17, 2005 Stenshol, who also owns Maui Recycling Service, launched Bio-Beetle two years ago with partner Pamela Miedtke-Wolf. Their goal is to make Maui self-sustaining, with zero waste, through business.
MAUI no ka 'oi - Winter 2005
...Being environmentally conscious is a passion for Stenshol, who was one of Pacific Biodiesels first customers. My goal for Maui and Hawaii is to be 100-percent sustainable. And to help make that a reality, Stenshol started Bio-Beetle car rental, which, he says, was the first biodiesel rental car in the world. And demand for his Bio-Beetle has been great, he says.
Honolulu Advertiser - November 8 2004 Another option is to rent a biodiesel car. Shaun Stenshol's BioBeetle has three cars on Maui and one on O'ahu that run fully on biodiesel. "People just rave about it," Stenshol said. "My goal is to make Hawai'i environmentally sustainable."
Green Car Journal - October 2004 "Okay, I'm game. I fired it up and headed back out... waiting for the cues that told me there were drawbacks to driving a Bio-Beetle in Paradise. They didn't come. There was no lack of power, no hesitation, no discernable tradeoffs to indicate I was trading motoring integrity for environmental integrity. I liked that."
Hana Hou, the magazine of Hawaiian Airlines - Dec 2003 / Jan 2004
"People respond to direct demonstration," he says. "This is my way of showing people they have a choice, right now, to switch to renewable fuels."
Hawaii Public Radio - September 10, 2003 Listen in! (WAV file) For info on Hawaii Public Radio go to www.hawaiipublicradio.org
Los Angeles Times - May 12, 2003 These days, biodiesel veers toward the chic. Actor Woody Harrelson drives on the fuel, and Julia Butterfly Hill, the celebrated tree sitter of California's north coast, is a promoter. The folk duo Indigo Girls are using biodiesel to fuel their current national tour. In Maui, there's a biodiesel rental car for tourists who want to make a statement.
Maui Time Weekly - May 1, 2003 Another big customer of Pacific Biodiesel is Maui resident and business owner, Shaun Stenshol, who uses biodiesel in his company and personal vehicles. Shaun, a longtime conservationist, has been touting the advantages of biodiesel for years and puts his money where his mouth is constantly. Shaun owns and runs Maui Recycling Service (www.mauirecycles.com), just one of two such services on the island, where all his vehicles use 100% biodiesel....If that's not enough, then check out Shaun's new Bio-Beetle rent-a-car service at www.bio-beetle.com. The service uses an unmodified 2000 VW Beetle diesel powered by 100% biodiesel fuel. Shaun is making every effort to draw attention to the benefits and need for biodiesel. Shaun offers, "The one thing I like to tell people is, 'Anyone can buy a diesel car and use 100% biodiesel fuel and make a difference!'" Thanks Shaun, for raising our level of awareness.
Rendermagazine.com - April, 2003
Biodiesel Rental Car Debuts On the Hawaiian island of Maui, Shaun Stenshol, owner of Maui Recycling Service, fulfilled his long-time dream of a biodiesel rental car when the Bio-Beetle debuted in February 2003. Available for rent through Maui Car Rentals, the 2000 Volkswagen turbo diesel Beetle runs solely on 100 percent biodiesel, which is produced on Maui from recycled cooking oil by Pacific Biodiesel. Since its introduction, the Bio-Beetle has been rented nearly full time, primarily by ecologically minded visitors.
Honolulu News - April, 2003
Earth Day is April 22. However, one can celebrate it daily by driving new technology. The future is now. No more science fiction, it is a scientific fact: we can drive without harming humanity and the earth. In fact, one can experience "Fahrvergnugen" (the pleasure of driving) by sitting in the front seat of the Bio-Beetle, the first biodiesel rental car in the world.
Biodiesel Bulletin newsletter - March 3, 2003
"The Bio-Beetle rental car gives the general public the opportunity to drive a renewably fueled car," said Shaun Stenshol, owner of Maui Recycling Service. "Biodiesel is one of the renewable fuels that can lead the way toward sustainability. This is my way of showing people that we have a choice, right now, to switch to fuels that can reduce our dependence on natural gas, oil, coal, and nuclear fuels, which are destroying our environment and contributing to foreign conflict."
Pacific Business News - February 28, 2003 Recycled cooking oil fuels Maui's Bio-Beetle rental car Shaun Stenshol is a businessman who thinks green is good. Sure, the color of money is fine with him. But he believes that making a profit and protecting the environment is better. ...Offering the car to tourists and local drivers "is something we can do right now to make a difference," said Stenshol, whose recycling company has three trucks that run on the used cooking oil, or bio-diesel.
CBS KGMB 9 Hawaii News Sept.12, 2003
NPR Audio interview... 2003
Honolulu Weekly - February 19, 2003 - brief mention
NBC KHNL 8 Hawaii News Feb 15, 2003
Maui News - February 10, 2003 - Lead Story
See the Original PRESS RELEASE Here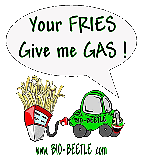 Home| Who we are| Maui Car Rental Policies| Maui Car Rental Prices| Electric Car Rental info| Biodiesel Car Rental info| Our Green Celebrities| Maui Hawaii tips and info| Cat Charity| In the News| Why ECO Friendly| More Links| Email
You're not just renting a car...